In this article we will show you how to:
Prerequisites
First, make sure you have the following permissions:
Your organization must have the APIs & Webhooks enabled on CodeSignal

You must have the admin role in CodeSignal
Create an API key to provide to RippleMatch.
From your CodeSignal client dashboard, navigate to the API Keys page (Integrations > API Keys) and lick the ADD A KEY button.


In the Key Description field type "Ripplematch integration" and click the arrow.



In the pop-up modal, make sure All the permissions are selected and click SAVE.


Copy the API key from CodeSignal by clicking on the key (in blue text) to share with PSM.

Create a Webhook to use RippleMatch end point
(which allows RippleMatch to get information from CodeSignal)
Select Webhooks and click "ADD A WEBHOOK".



Add this endpoint:

https://ripplematch.com/api/v2/integrations/cs/webhooks/certify

and s

elect the following Event Types:

certificationResultPending;
certificationResultShared;
certificationResultNotCertified;
certificationRequestExpired;
certification ResultRejected.

Then click + ADD A HEADER. In the first box type User-Agent and in the second box type Codesignal-<company_name>.
As a final step, click on the Test button. If the webhook is successful then you can enable on specific roles!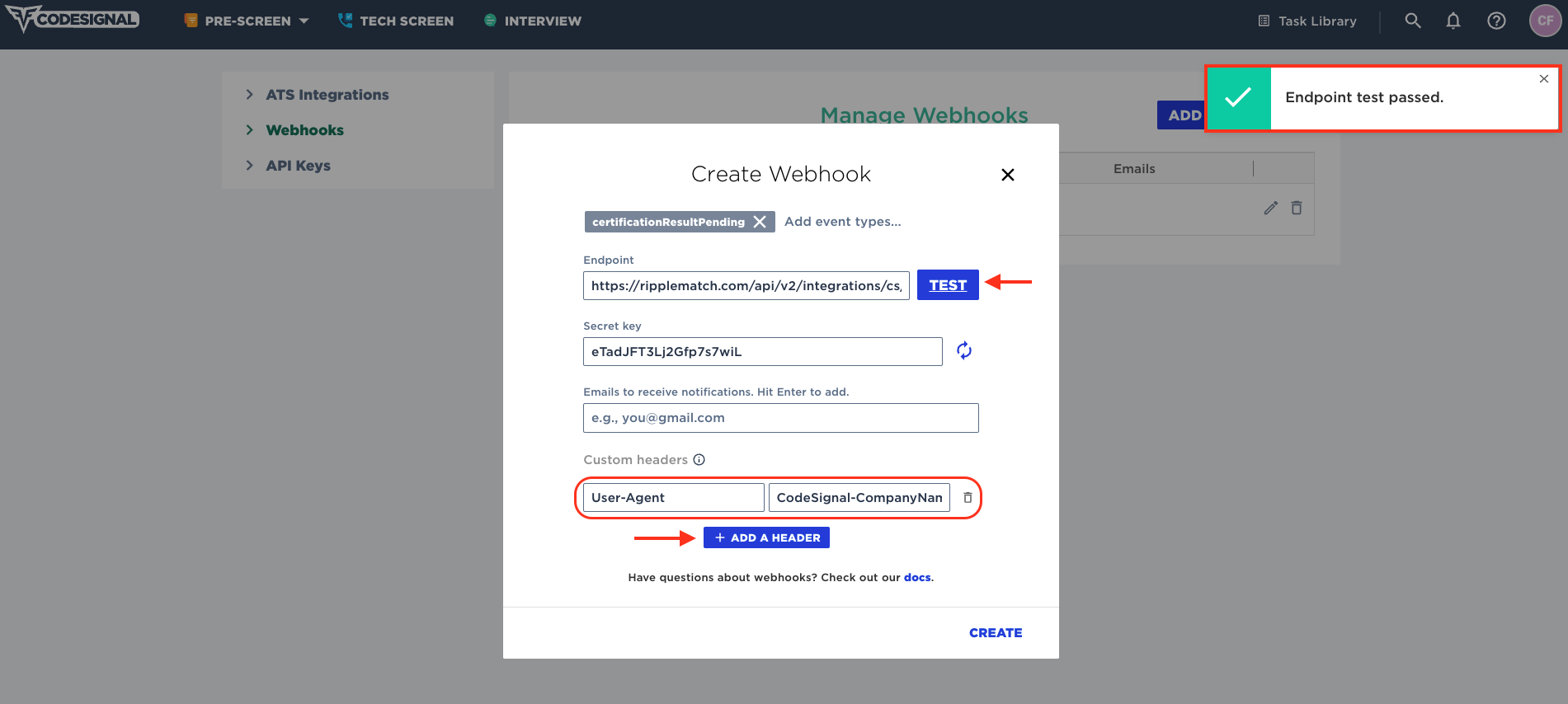 Enable on Specific Role
Please send the public ID/Name of the role you would like to enable this feature on to your RippleMatch contact.

The public ID can be found in the browser URL when viewing role (see in grey below).


Next steps to test and finalize the integration:
You provide API key + webhooks;

RippleMatch sets up test role with API key + webhooks + modified intro email;

RippleMatch puts test candidate with email the company can access in Live for test role;

You advances test candidate;

RippleMatch receives an email from CodeSignal and completes CodeSignal Assessment;

CodeSignal approves assessment;

You view the test candidate in RippleMatch with a score;

RippleMatch integrates additional live roles + integration is live.