You can use CodeSignal and Greenhouse together to both send candidates coding assessments and receive the scores in Greenhouse. To implement this integration, you need to authorize CodeSignal to use your Greenhouse account.
The Greenhouse integration with CodeSignal only needs to be completed by ONE user from your company.
Prerequisites
You must be logged in to your CodeSignal account.
You must have a CodeSignal user type of Admin.
You must be logged in to your Greenhouse account.
You must have developer permissions on Greenhouse (specifically, "Can manage ALL organization's API Credentials")
Steps
Login to your CodeSignal account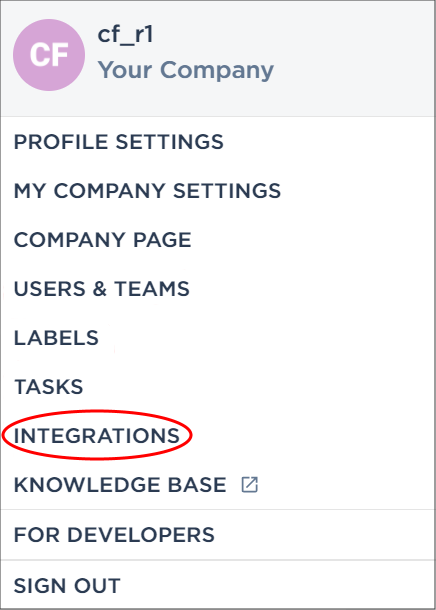 Harvest API Key
2. Click the API Configuration Page link to access the API Credentials page on Greenhouse.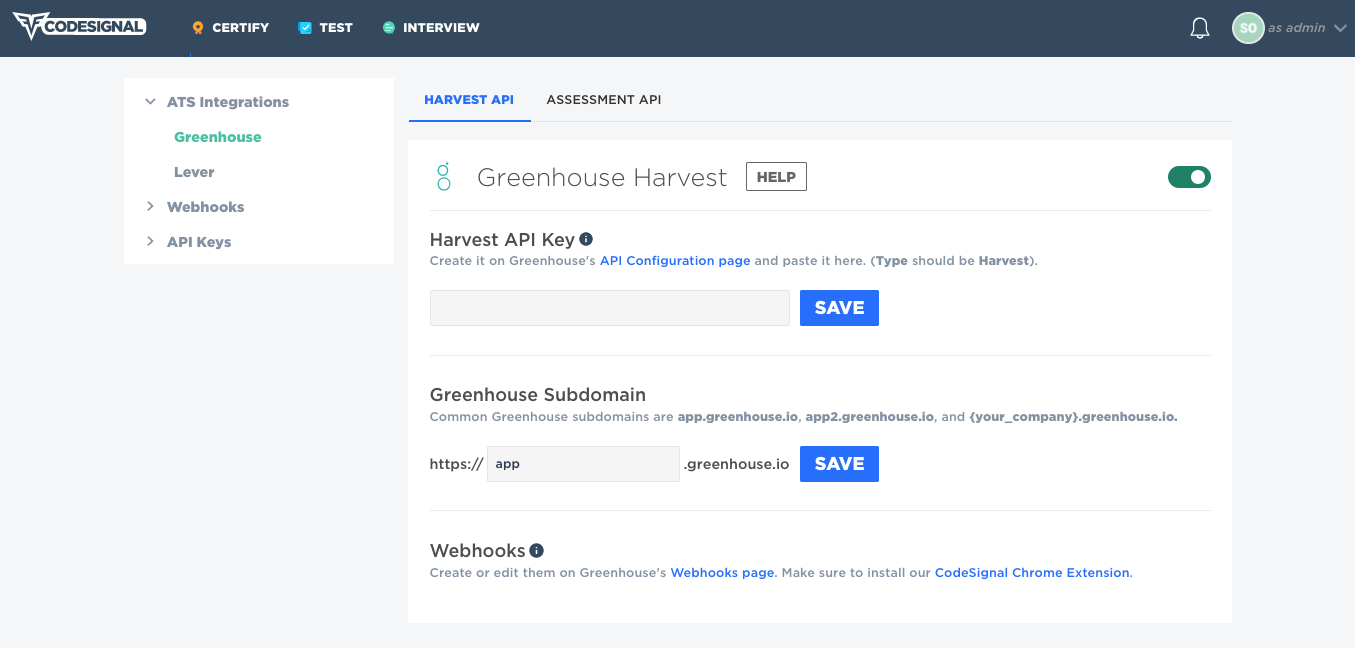 3. On the Greenhouse API Credentials page, click the Create New API Key button.
4. Add a descriptive name like "CodeSignal" in the Description field, and select Harvest from the Type drop-down menu. Click Create.
5. On the Manage API Key Permissions page, select the following permissions. Then click Update.
Applications:

GET: Retrieve Application

Candidates:

GET: Retrieve Candidate
GET: List Candidates
POST: Add Note
6. Scroll down the list to find your newly created API key. Click Copy to copy it to your clipboard.
7. Go back to the CodeSignal tab and paste your new API key into the Harvest API Key field of the Greenhouse Harvest modal. Click Save.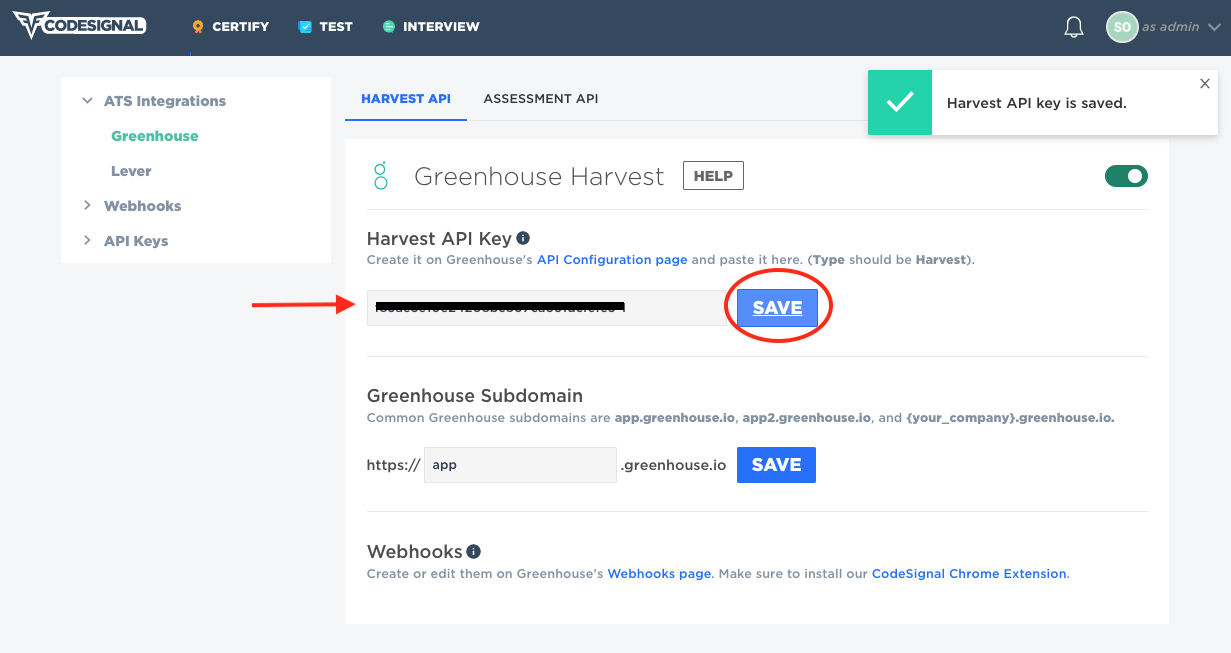 Greenhouse Subdomain
8. Fill in the appropriate Greenhouse subdomain for your account. As mentioned in the modal, it will be either app, app2 or [yourcompany].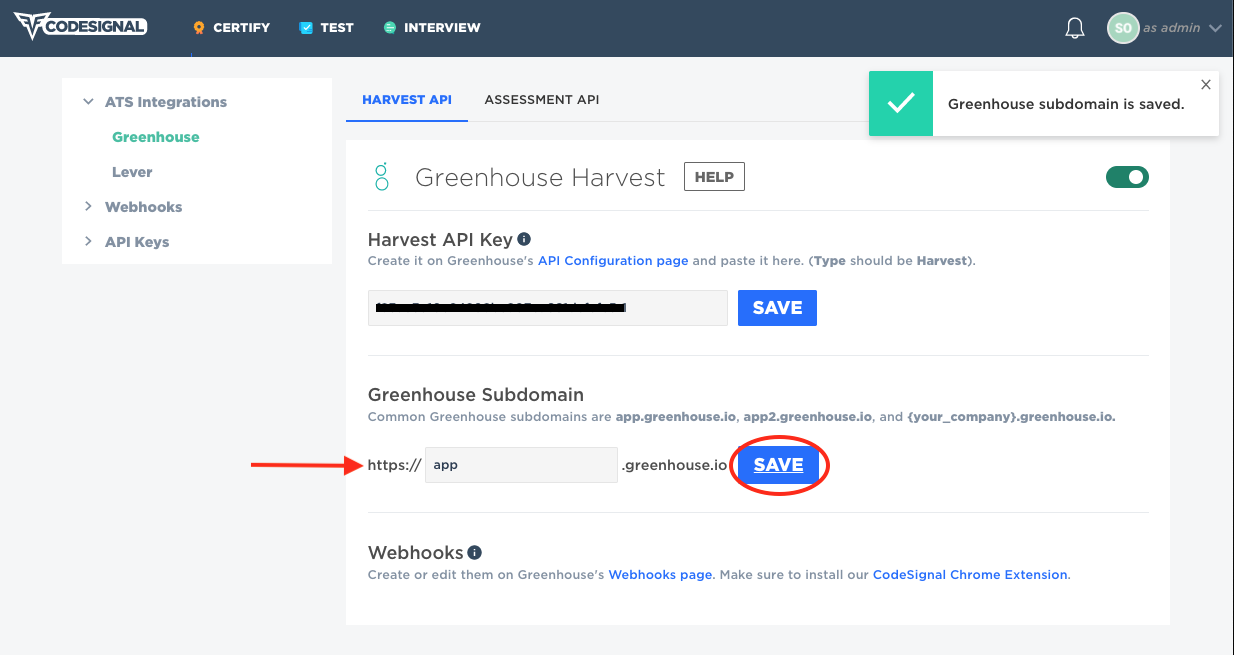 Enable Webhooks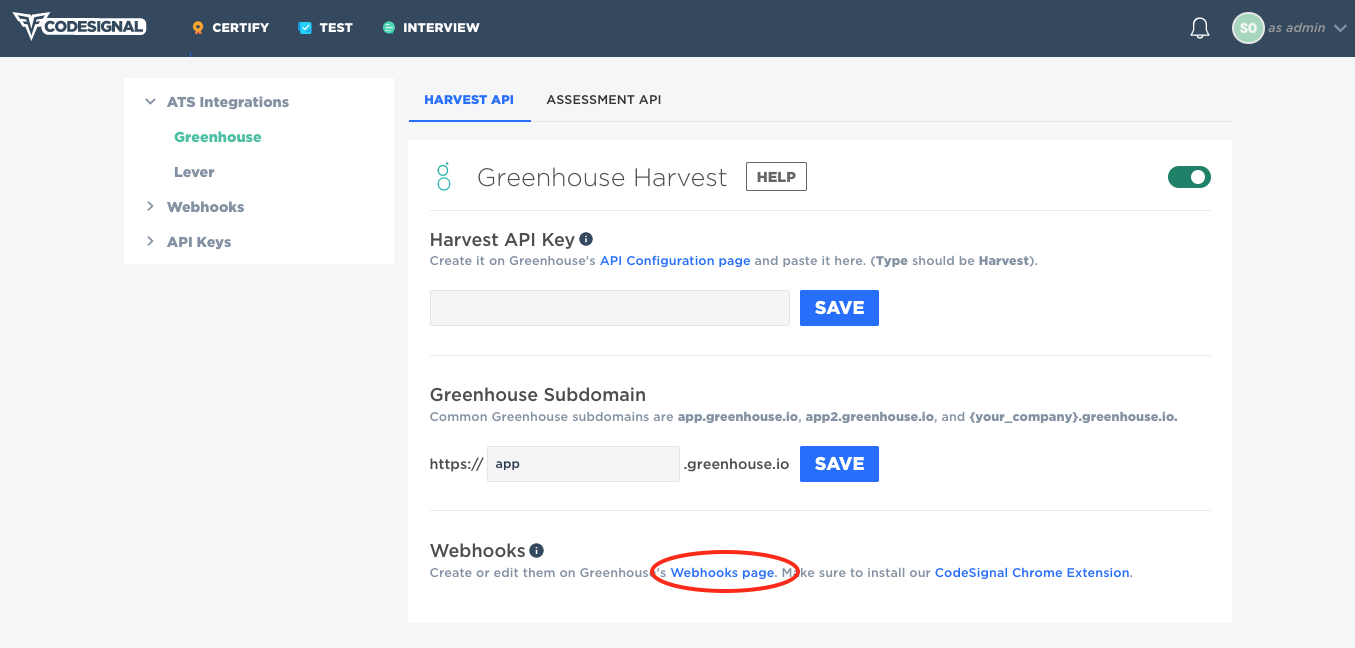 10. The CodeSignal Chrome Extension will pop up on the right side of the page. Click Create All.
11. Once you see the success message, click Back to CodeSignal.
Assessment API
12. Click on the ASSESSMENT API tab to continue.
Click Copy to copy the pre-populated CodeSignal Assessment API Key to your clipboard.
Note: You need to give this key to your Greenhouse account manager. Start by emailing support@greenhouse.io to open a ticket. The Greenhouse support team will send you a SendSafely link so that you can send the API key in an encrypted format. Once the Greenhouse support team has uploaded this key to your Greenhouse account, CodeSignal Test will be one of the available options when you're creating an interview plan in Greenhouse.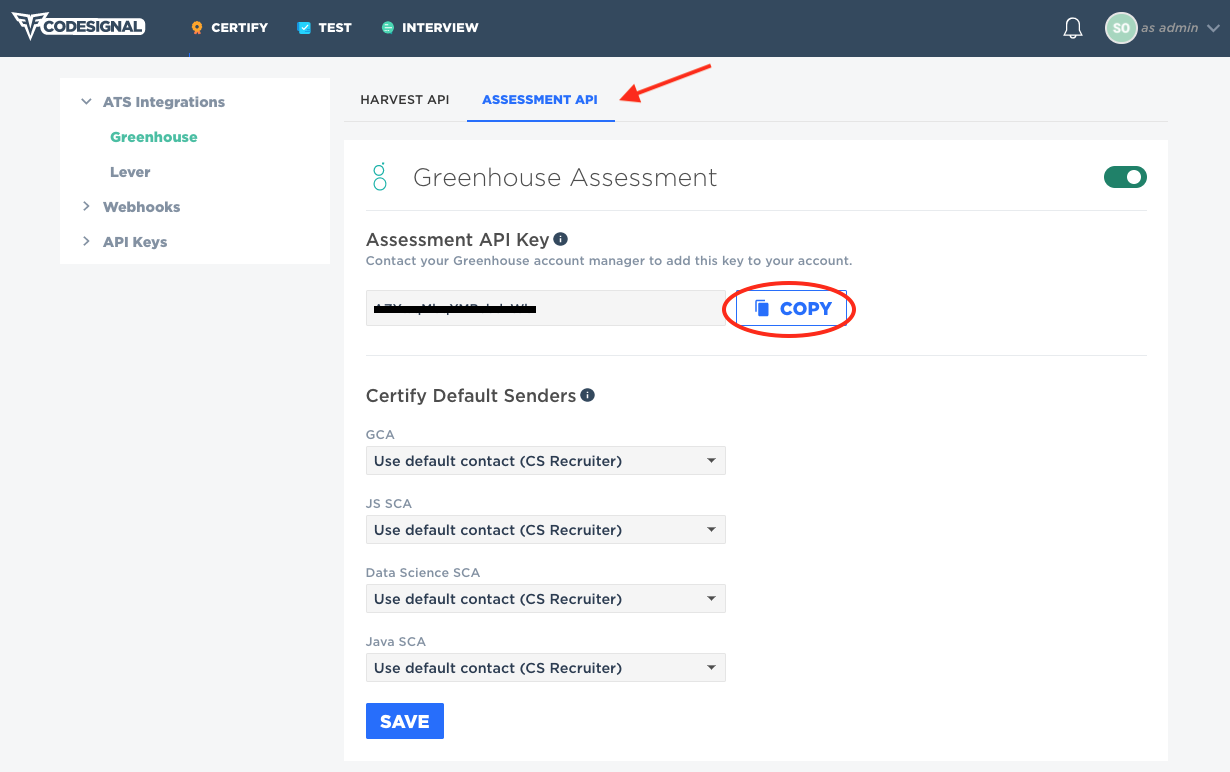 13. For CodeSignal Certify users only: Under Certify Default Senders, specify a team member as the default sender for each of your certified assessments. This is the individual on whose behalf we will specify the assessment is from in the email invitation.
This only applies to candidates who receive an email invitation to take the test directly from CodeSignal or the candidate profile in Greenhouse.
The individual's email address will NOT be listed in the email invitation.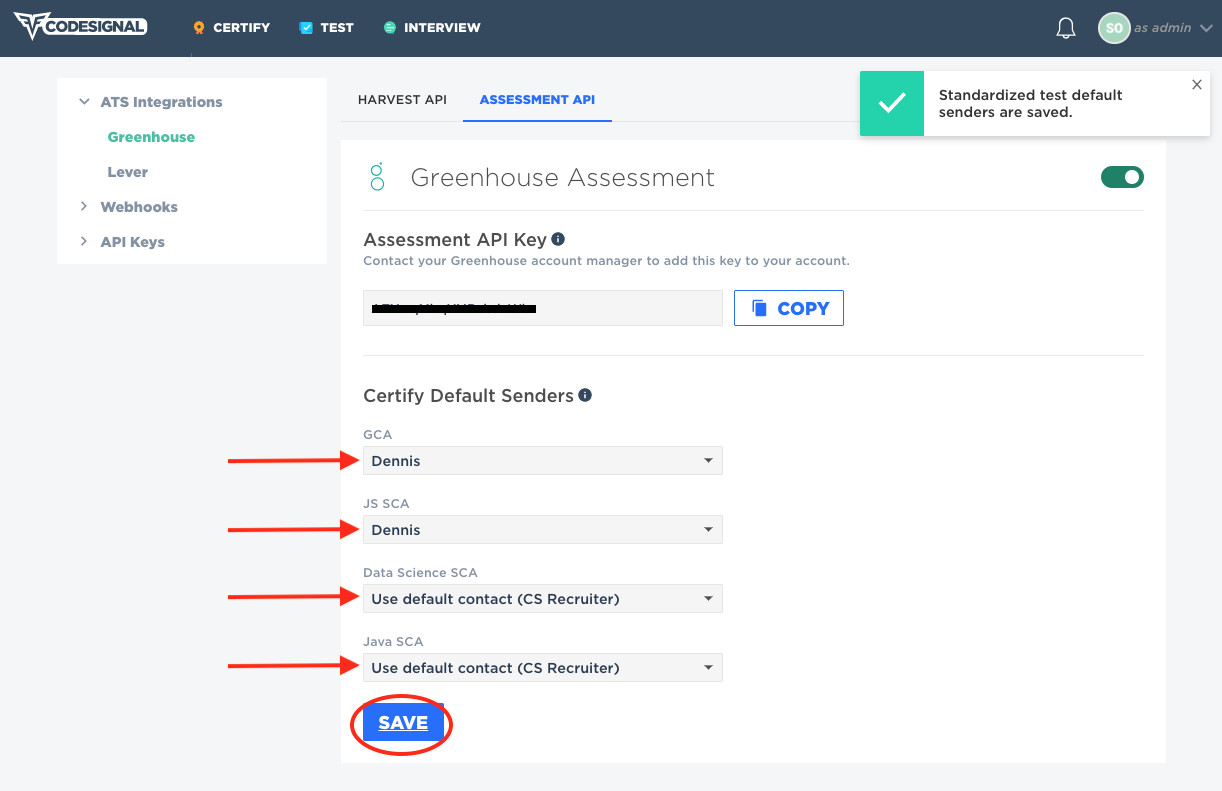 14. Click Save. Set up in CodeSignal is now complete!
15. In Greenhouse, you will now be able to add the CodeSignal Test stage to the interview plans of your choice. Select a job and click on "Job Setup." Scroll down to Interview Plan and click "Edit."
Click "Add Stage" and select CodeSignal Test. Click "Add" to incorporate sending a CodeSignal Test to your interview plan.
Congratulations! You have successfully integrated your Greenhouse account and your CodeSignal account.
Questions? Email support@codesignal.com.