It is simple and easy to share your CodeSignal certified assessment results with potential employers who use CodeSignal in their hiring processes. This article describes how to share your assessment results with companies via the following paths:
If you took the test via an invitation from a company, the first screen you were shown prompted you to authorize CodeSignal to share your results with the requesting company.
When you log into your CodeSignal account, you will see any new company requests for your coding report under the REQUESTS tab of the Pre-Screens hub.
Taking a new assessment from Pre-Screens and sharing results
If you have not yet taken the test, or have passed the cooldown period in between retakes of the assessment, click the blue TAKE NOW button.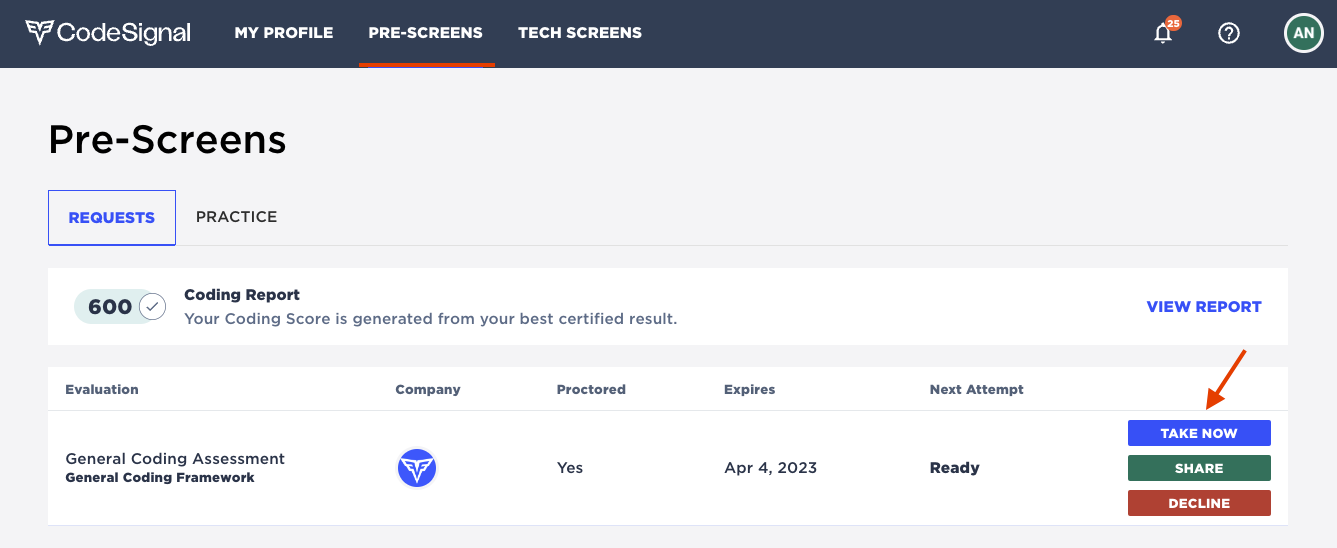 Opting in to proctoring
If the company who requested your results does not require proctoring for the assessment, you can still toggle on opt in to proctoring before proceeding with the test. This increases the likelihood that your assessment result will be accepted by other companies using CodeSignal.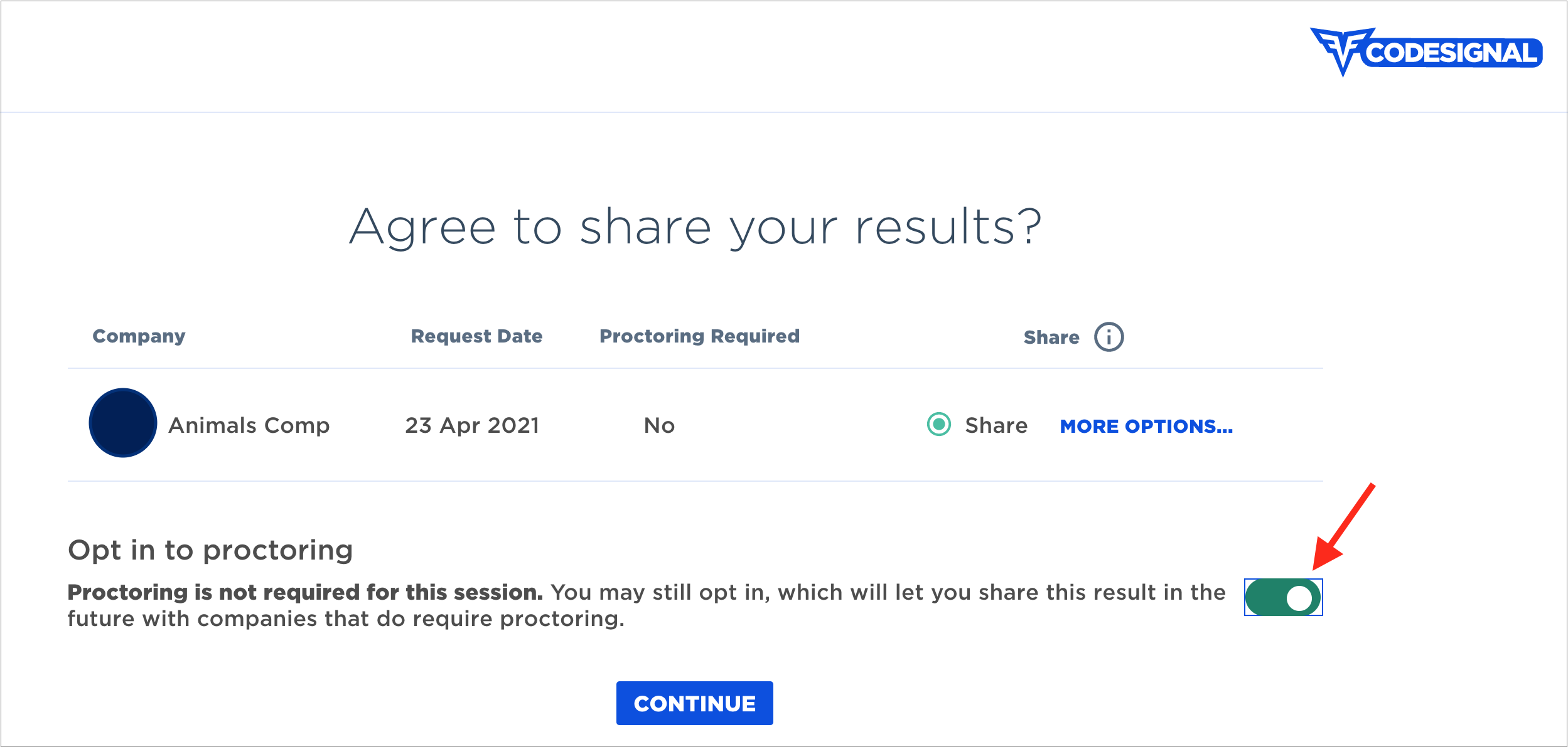 Sharing existing assessment results
If you receive a new assessment invitation but have not yet reached the end of the cooldown period for this assessment (ie, you've recently taken the assessment), you may share results from a previously completed assessment by clicking the green SHARE EXISTING button.
Make sure to change your Coding Report privacy settings to Everyone in your profile for this to work. (For help, read How do I update my Coding Report Privacy Settings?)
You can also decline to take a test by clicking the red DECLINE button.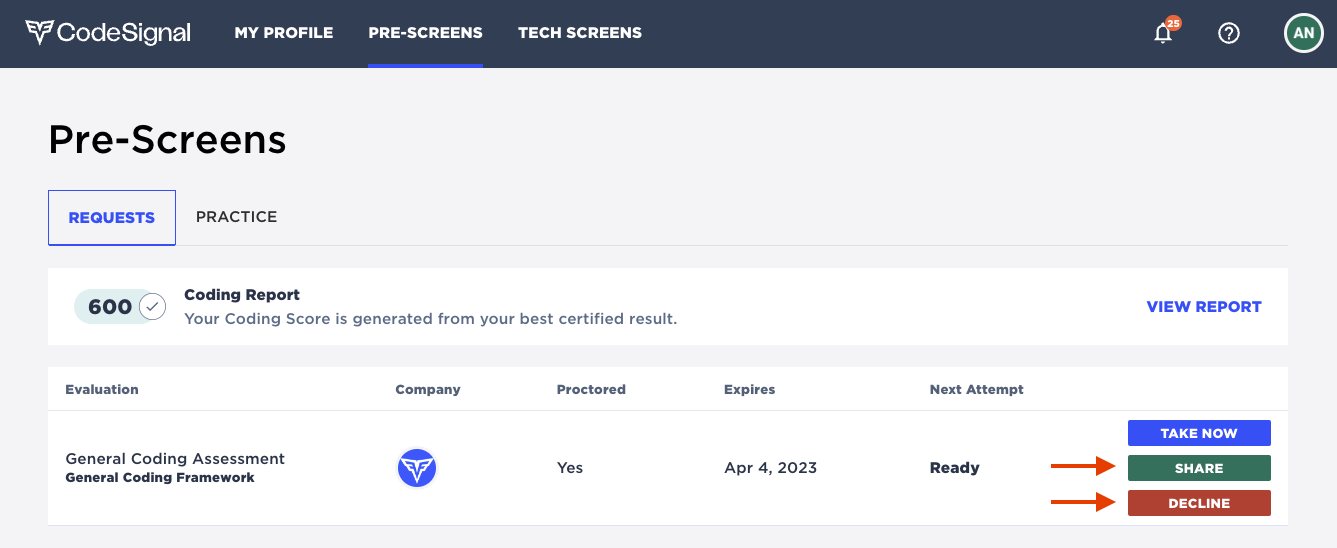 Note: If your previous results were not proctored but the company who requested your results requires proctoring, you will not be able to share your previous results. See above how to opt in to proctoring.
Viewing your Coding Report
Just below the REQUESTS tab you will see your Coding Report for your best certified assessment result. You can see the details of your coding report by clicking the VIEW REPORT link on the right. This will take you to your Coding Report.
Click Link at the top right to send your report to anyone you choose.
Questions? Contact support@codesignal.com